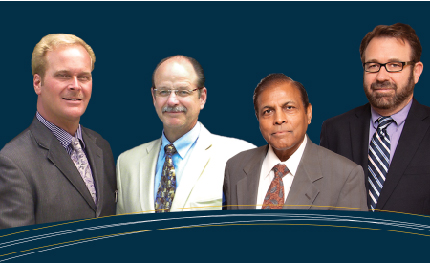 Tom O'Niones; President/Owner, Bruce C. Brink, Jr., D. O., Medical Director,
Syed Ali, MD; Medical Director, Steven Barnett, MD; Medical Director
Transcendent Healthcare has been developed to provide healthcare management services which are unsurpassed in the industry. Our mission is to employ superior personnel who can lead and direct the management of long term and post-acute care facilities- providing quality care will always remain the first objective, resulting in satisfied customers and profitability for those organizations, which retain our services.
Priorities for Success
Each part of the Transcendent continuum of care operates with the consistent vision to provide large company expertise in delivering healthcare services; while maintaining a local, "hands-on" approach to operating within its communities.  As set forth by its founder and owner, all administration is held to the standard that strong customer and clinical outcomes drive financial success.  After nearly two decades in business, each provider entity continues to be held on a daily, weekly and monthly basis, to a system of management tools established by its President, known as  Priorities for Success, or "PFS"
"Priorities For Success" (PFS) Components:
Licensure

Standards of Care

Census

Labor

Operating Expenses

Management Objectives

Accounts Receivables

Bottom Line Profitability (ROI)